Advanced Tandem/ AFF- Learn to skydive Solo.
What is Accelerated Free-fall?
Accelerated Free-fall (AFF) for the thrill seeking individual looking to progress/learn to skydive solo and gain a full skydiving licence.
Our learn to jump solo programme begins with 6 hours ground tuition which starts at 8am. Before you can start jumping – we will teach you how! The tuition covers safety aspects, the equipment you will use, exiting the aircraft, control in free-fall and how to control and land your parachute system. There is a multiple choice test that you will be expected to pass. On completion of the ground tuition, you will have the skills and knowledge needed to start our 18 jump course.
Course Progression
Level 1 – Jumping from 15,000ft with an Advanced Tandem Instructor and an altimeter, this will help you build your altitude awareness as well as practise how to control & fly your parachute. It is the ideal way to prepare for your first solo skydive. Midweek £375- Weekends £425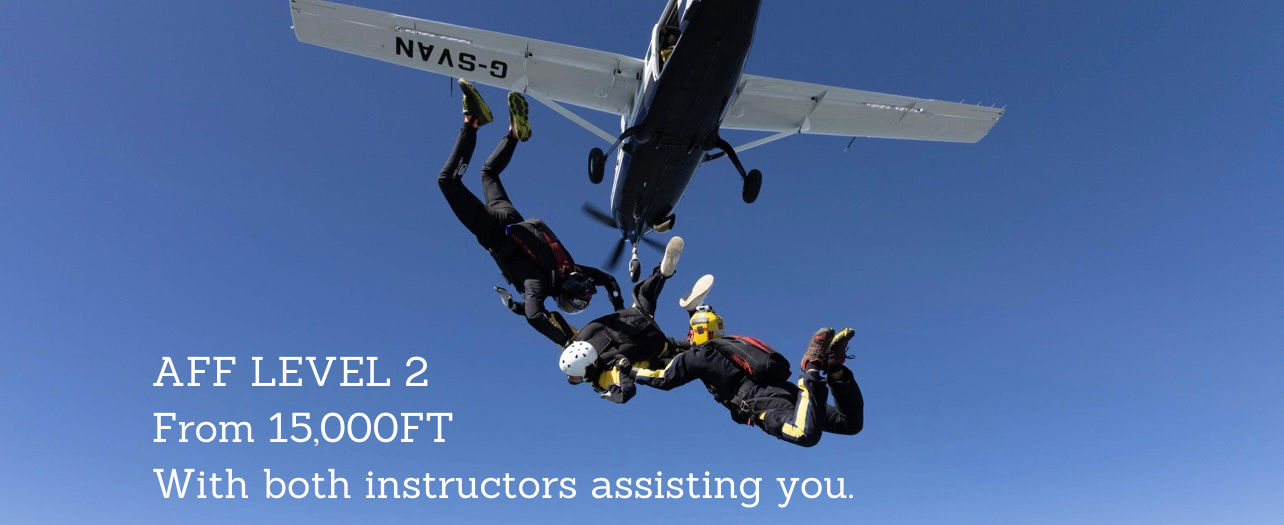 Level 2-3 – Your first Solo Skydive with two Instructors holding on and helping control your Free-fall, you will perfect your body position until you're ready to skydive by yourself.
Level 4-5 – Now you only need one instructor with you, you will learn how to turn and control your heading (direction).
Level 6 – You will be exiting without an instructor holding although they will still jump with you. You will learn back loops and tracking (moving forward in the air).
Level 7 – You will show all the skills you've learnt; turns, back loops and tracking.
Level 8 – This consists of jumping from 7000ft with a short delay before pulling your parachute, to simulate an unplanned exit.
Completion of your course- 10 solo skydives:
Consolidation jumps: A minimum of 10 solo Skydives. You will be dispatched from the aircraft by an instructor but will be on your own in free-fall. These jumps are for you to practice the skills you have learnt so you are ready to apply for your skydiving licence.
Total 18 jump package £2565 -(Pay per Level as you go)
+ British Skydiving mandatory third party Insurance (Approx £100)
Media options:
Movie and photo packages available to capture your first solo skydive.
Why learn with us?
15,000ft (FL150) – Get the most free-fall time for your money.
Super Fast jump aircraft taking you to 15,000 FT.
Qualified AFF Instructors – With many years of experience and over 82,000 jumps between the team.
Community – Enjoy the welcoming and relaxed social side to our club.
Accelerated Free fall Restrictions
Restrictions for your Advanced Tandem as per your first Tandem decent.
Progressing onto AFF Level 2 onwards you will need to meet the requirements below:
For weight restrictions please refer to the weight to height ratio chart, (find your height on the chart, then check you are no heavier than the adjacent weight). Please call the office before booking if you are over 14 stone.
For learning to solo skydive the minimum age is 16 years and the maximum age is 55 years. If you are aged between 16 and 18 you must obtain a parent or guardians consent, on BS form 106 (Parental Consent).
If you have any medical conditions please have a read through the medical forms below. If anything applies to you on 115C you will need to consult with your Doctor and complete the form 115D before you book your course.
Please note that if you require your medical form to be signed by your GP and if your Doctor restricts your exit height below 15,000ft you will not be accepted by Skydive buzz for our Advanced Tandem AFF.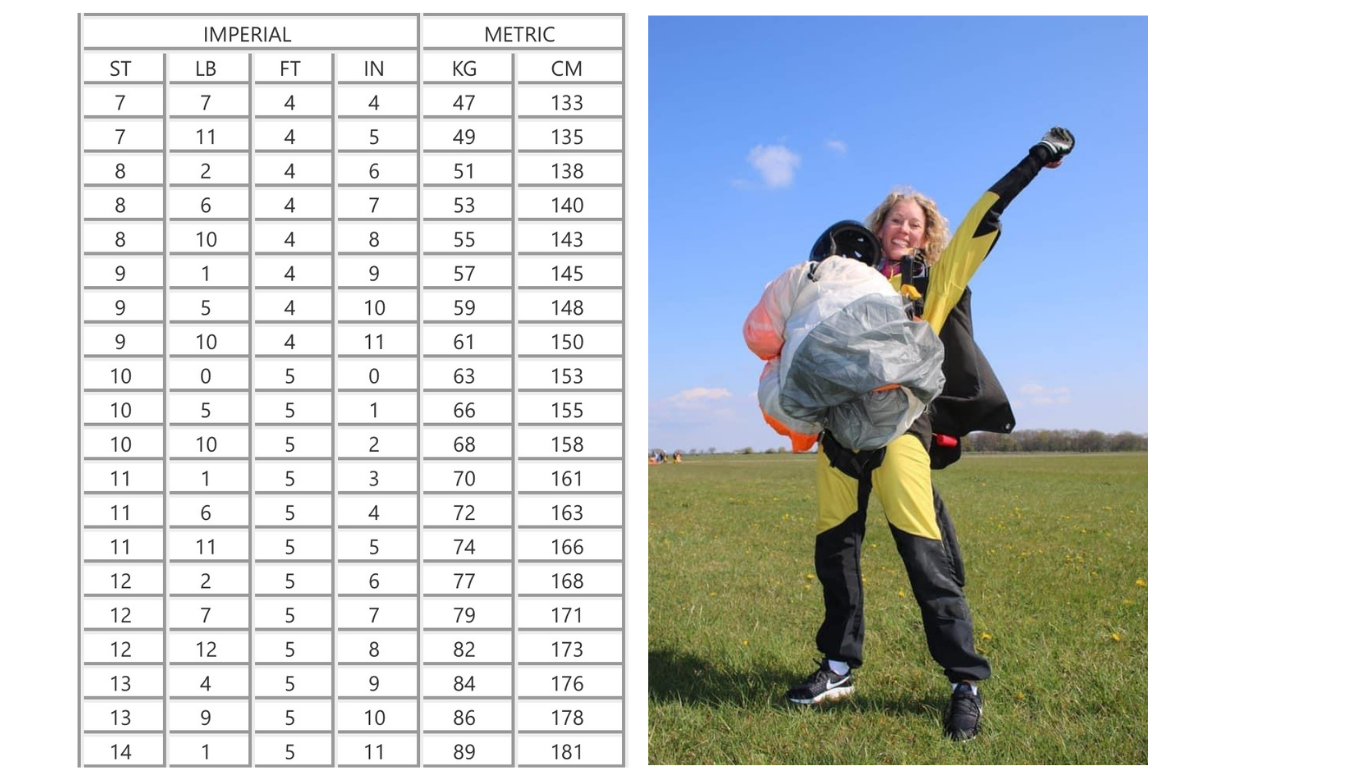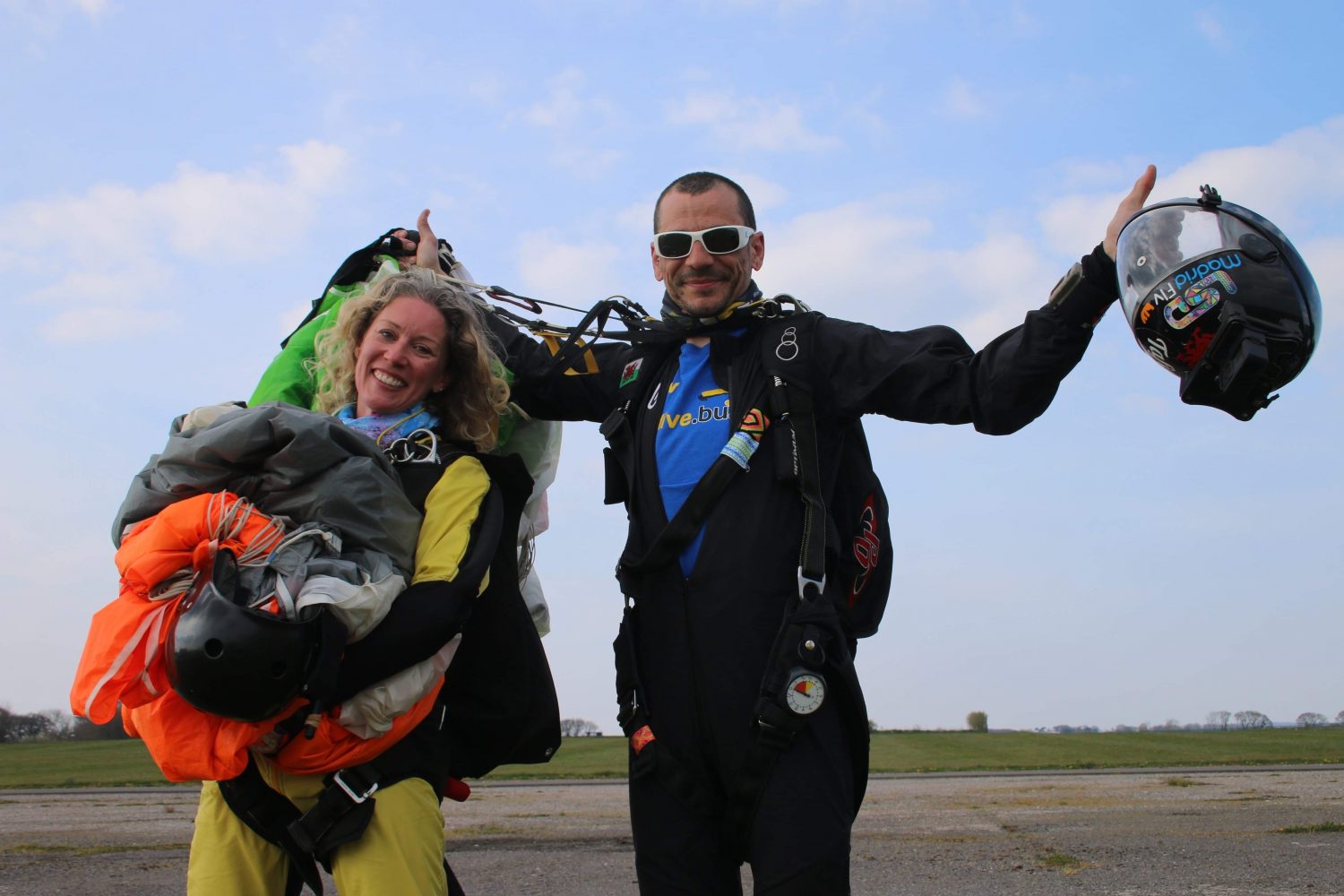 If you have any questions or quires about any requirements on our Advanced Tandem/AFF- learn to skydive solo course please don't hesitate to email us at office@skydive.buzz to request a call back from an Instructor.